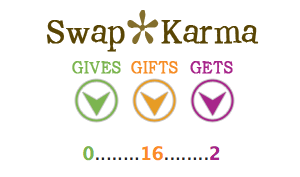 As any modern American parent knows, kids come with a whole lot of stuff. While we have tried to keep our consumption in check, there is the simple fact that these little people need a whole lot of stuff!


We've tried to share the wealth. Instead of having everything collect dust between children, we lent out our co-sleeper, bouncy, boppy, exersaucer….out to new-parent friends. They were eternally grateful, and we felt like the favor was mutual: less stuff = greener planet.


With our Girly in wobbler-hood I've been thinking about all this stuff in our basement again. I even started a Google Doc to share with my local Mama friends, but the problem is that most of them are already Mamas and have duplicates of the same gadgets themselves.







I was elated to finally find a mama bartering community online, Swap Mamas. It keeps tabs on how much "Swap Karma" you've earned by giving, swapping or getting.

I love that!
I've been saving much of my stuff with the hope of my Twin Sis finally settling down from her African safari-like career, but I think I may just save a few special items and figure that when it's her time she'll just have to join the swap community! (Hint, hint sis 😉
Have you tried swapping your kid stuff?
Has it saved your family money?


~*~*~*~*~*~
Sustainable Family Finances
The story of a family creating an abundant and sustainable life.