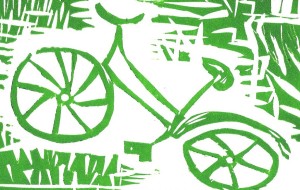 I took a baby step toward reducing our carbon footprint while enjoying some family time by finally mounting a baby seat to my bike for the Sunday Parkways event. When Girly began waving her hands as the wind blew her curls, I instantly wished that I would have broke down and got a seat years ago…here's my saga.


For whatever reason, I always felt like I needed to get some expensive trailer to hit the bike lane with a child. Then when we were thinking of number two, I suddenly "needed" a double bike trailer. Then when our BigGuy got truly bigger, I thought to myself that we could only manage with a tag-along bike. Then a sales guy almost had me sold on buying a xtracycle, which is terrific for cargo commuting, but no necessary for green recreation.


Yet, I wasn't quite ready to lay down a ton of cash just for a cruise with the kiddos. I also kept assuming that somehow I'd come across the perfect kid-bike gear at a yard sale, or Craigslist or as a hand-me-down. Yet, nothing seemed to give.


So, I finally checked out how much a simple new baby bike seat would cost me, turns out they are $28! I have no knowledge about the story of how it was created. Yes, it is plastic and made in China, but I hope it will have a long happy life as a baby bike seat! But I finally decided that I couldn't stay stuck in my effort for a sustainable life.


Do you have a good family bicycle option?
Do you get stuck trying to "sustainable" purchases?


~*~*~*~*~*~
Sustainable Family Finances
The story of a family creating an abundant and sustainable life.