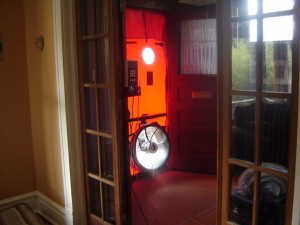 We are elated to have accomplished our biggest household goal; fully insulating our leaky 1904 home. It was made possible through a new program in Portland called Clean Energy Works, which I've talked about in detail in Part 1 and Part 2.

EcoTech did a blow test before insulating, which measured that our old house leaked 5901 CFM (Cubic Feet Per Minute). After all the work was done, the house measured 3823 CFM, a difference of 2078 CFM! Increasing our home efficiency by a third feels like a good investment!
Only time will tell how much of a difference it will make for our utility bill and carbon footprint, but I will be to give seasonal updates and report out after the first year. Our efforts were further validated when I read how "energy efficiency is the best and cheapest way to cover the next generation's electricity needs."
Even though winter is past us (thank God!), we can already feel the difference in our home with the breezy spring. We've been talking with our BigGuy about the work being done and have explained that we've put a big blanket around our home. It truly feels cozy and snug, and it's not just me feeling warm and mushy about the money saved and pollution curbed.



Beyond heating and cooling benefits, a benefit most people don't think about is how much outside sound is reduced when your home is insulated. Our residential neighborhood is on the edge of the urban acitivity and we are totally used to hearing the "sounds of the city" (in quotations because we have a cute book with the same title 🙂 Yet, the general noise reduction has been calming.
What types of home efficiency has you invested in for your family?
~*~*~*~*~*~
Sustainable Family Finances
The story of a family creating an abundant and sustainable life.