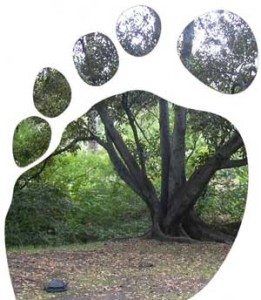 I took my second crack at calculating our family's carbon footprint by using one from Oregon DEQ. Even if you don't live in Oregon, I would recommend trying it out. There's nothing that would exclude non-Ducks/Beavers, although it does have a handy comparison between your footprint, Oregon average and U.S. average.
The most interesting thing was that it asked your family's gross income. You can see instantly how your footprint either increases or decreases depending on your income level. The calculator assumes that your driving and consumption will increase by a third if your salary jumps from $50k to $100k. While I understand the assumption, I certainly don't think it has to be that way.
It calculated that we emit 35 tons of carbon per year, 53% of comparable households, but 267% of the global average. The calculator broke down the "score" and showed that we were 53% on travel, 78% for housing (before our Clean Energy Works insulation!), 45% for shopping. This calucator was much better than most in considering the impact of consumption: shopping, food, and household supplies. I appreciate this in light of a new study that reveals how "Consumption matters as much as energy and transportation."
The instant nature of this calculator also made for a more impressive comparison on other big ticket items. If it weren't for our roughly annual trip to visit family back East, our travel footprint would be a 1/3 of average. The trip costs us 4 tons a year, so I'm glad I paid an extra $25 to offset our last trip. I don't think purchasing offsets gives us any right to pollute, but it feels like a voluntary eco-tax.
The calculator also had a take action pledge section as the last step. It showed how much various actions would save you in carbon and money, and how much it could cost up front. It was an easy way to see what could give you the most carbon-savings for your dollar.
Give the calculator a try and let me know how your family scores!
~*~*~*~*~*~
Sustainable Family Finances
The story of a family creating an abundant and sustainable life.