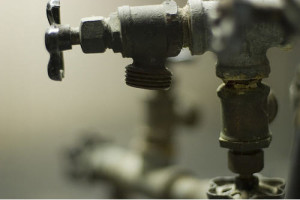 You might want to plan on spending more money on your family's basic water and sewer utility costs in the near future and for generations to come. The amount may vary depending on your location, U.S. or otherwise, but the trend is definitely upward.


Before I go any further on this topic, I want to give a big hallelujah for being eternally grateful that my family enjoys these "services" for a relatively minimal price. It is awe-inspiring that generations before us were able to accomplish such engineering feets, and gut wrenching to know how many people around the planet cannot rely on this simple "luxury."
Water
In p-town you can buy 4 gallons clean water for a penny! So if you're trying to save your family some money, don't even think of grabbing some bottled water…but do watch the new video!
Even though the current distributions systems are pretty inexpensive, aging infrastructure is going to be costly to maintain. Public underfunding of this critical human service needs to be addressed. Most Americans spend way more on bottled beverages than we do for all the water we use to drink, bathe, wash everything, play…you get the point! (More info on EPA's Water Infrastructure page)
While traditionally known for advocating to protect and restore rivers, American Rivers is now campaigning to maintain a cost-effective water supply and fund clean water infrastructure in order to prevent pollution. This is not your typical sexy mega-fauna activism topic, but what would the burden be on on our children's generation if we don't pay for the infrastructure maintenance now?


Sewers
Certainly less glamorous than a glass of clean tap water, our sewers that whisk away waste and storm water are like an unsung hero in the world of city infrastructure. Storm water is the top source of non-point pollution; meaning we don't really know where its coming from, but it's being gathered off roofs and streets and in many cases flushed to the river.


Sewers/storm water management can also go a long way toward continuing existing urban environmental problems or being part of the solution. Green stormwater solutions actually cost less than traditional discharge fees, but industries and municipalities have to be proactive.





Recently the "sewer" portion of utility bills actually explains that we each pay a Portland Harbor Superfund charge. River clean-up actually hasn't begun yet, since industry is bickering over who is most potentially responsible, but the bottom line is that we are starting to pick up what will amount to be a very big tab to restore the river. Check out Willamette Riverkeepers' site for more info on how to get involved.
Do you think your water/sewer rates are fair?
What would pay to buy the convenience of reliable infrastructure?
~*~*~*~*~*~
Sustainable Family Finances
The story of a family creating an abundant and sustainable life.