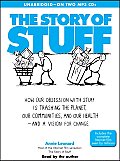 After putting Girly to bed and kissing the Boys goodbye, I headed for a rare treat of an intellectual night out.
I was jazzed to see my new personal guru Annie Leonard, the intrepid "host" of
The Story of Stuff
at my favorite place:
Powell's City of Books.
It's hard to express how energized her talk made me feel. I feel like we both just touched the tip of the iceberg.

I found so many personal connections to her own story. Like Annie, I've been thinking and learning about environmental/social issues for twenty years.

Annie talked about how peers told her that she needed to get out of her head and listen to her heart.

One of the wisest people I've ever known,

tribal elder Grandma Aggie

, once told me that the longest journey we will ever take is 9 inches, from our head to our heart.

Like Annie, I've had my own challenge of taking issues and myself too seriously and I feel like I'm finally finding my voice by sharing my story in bite-size blog posts. Unlike me, Annie has already reached over 8 million people worldwide with her video!

Like me, Annie is an activist at heart.

I started my career in the non-profit world as a climate activist, and now consider myself an "online activist" and I've already shared some of my favorite organizations/causes with you (check activism category).

In spite of being highly educated about the issues, Annie is also hopeful.

She reminded me of my all-time favorite quote, the Hopi Nation Prayer, which ends like this:
"The time of the lone wolf is over. Gather yourselves!
Banish the word struggle from your attitude and your vocabulary.
All that we do now must be done in a sacred manner and in celebration.
We are the ones we've been waiting for."
Suffice to say, Annie's story left me totally inspired.


So, I broke a cardinal rule, and bought her new book. Annie even signed it to "Green Mama" so if you're in Portland, I'd love to share it with as many Mamas as possible. I'd also encourage you to consider buying a copy yourself (already on the NY Times best seller list!) to share amongst your friends.
The Story of Stuff: How Our Obsession with Stuff Is Trashing the Planet, Our Communities, and Our Health-And a Vision for Change


Lastly, Annie's message resonates so deeply with me that I can't help but share more with you about her book as I read it. I hope you'll make the connections with me and together we will find ways to live in sustainable abundance, without all the toxic stuff!


Are you an Annie Leonard fan?
Who inspires you?


~*~*~*~*~*~
Sustainable Family Finances
The story of a family creating an abundant and sustainable life.