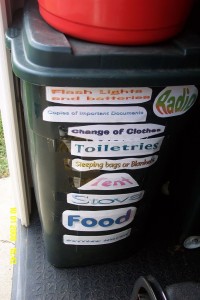 Typically I wouldn't put myself in the category of "survivalist," and I was pretty sure that the whole Y2K scare was a marketing ploy to sell stuff. Yet, as a Mama I've grown into the idea of needing to prepare my family and recently I've been a little obsessed with the task of gathering together a 72-hour emergency kit.



Just like how each family is unique, your kit is likely to be different than others, but to help getting you thinking about what you might want to include. We did put everything in a new rolling trash can, but I didn't label it (found photo) Heres' my list:
Emergency Plan – including important phone numbers and planned reunion locations, copies of insurance info and driver's liscence, family photos for identification purposes and passports

Emergency device – multipurpose crank radio, flashlight, compass and several features I'm pretty sure I'll never use for $25

Cash – in small denominations (I put a $100+ to start)

Food & Water – lots of canned goods, we'll add more water as we get containers

Old backpacking stove with fuel, backpacking water filter

Clothes and sturdy shoes – no fashion statements here just lots of fleece; we'll strip if it's summer (just kidding)

Solar powered flashlight – bought 2 at Costco, one for the car (small car kit too)

First aide kit & t

oiletries – including some TP, big diapers, baby wipes

Misc – Dust masks, work gloves, pocket knife, tape, scissors, papers (reused!), pens, local map

Extras – dog food, old sleeping bags and towels, playing cards, candy, bottle of wine
Many of the items on our list we already had on hand, but the extra expenses (including food) were around $100. Totally worth the investment.


I actually started the task before the tragic earthquake in Haiti struck, and as I wrapped up the last of the supplies I heard news of the devastation in Chile. My heart goes out to everyone impacted.
While I hope my family never needs these emergency supplies, I imagine that I will be relieved that I listened to that voice inside telling me prepare for the worst and plan for the best.
Mormons reall know how to prepare: Prepared LDS Family
Here are a few more good references on this topic:
Does your family have enough supplies to last 72 hours?
What else does it include?

~*~*~*~*~*~
Sustainable Family Finances
The story of a family creating an abundant and sustainable life.