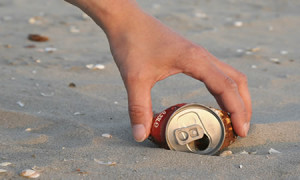 My first SOLV beach clean-up was sometime in my teens, and it had a big impact personally. It was empowering see volunteers dotting the beach on a common mission to restore the beach to its natural beauty and remove the hazards of humanity. I don't know if I should feel proud or disgusted, but SOLV reported over 50,000 pounds of garbage removed at the last beach clean-up. I haven't participated in a formal beach clean-up since college, and I'm ready to make this a family tradition. It's a simple and fun way to feel both an immediate gratification and a long term connection, both socially and environmentally.
We're also going to be "yurting" with friends at a campground, which will certainly make it an affordable getaway. If you haven't been to a yurt before, they are semi-permanent tents (originally from Mongolian nomads.) Oregon's state park yurts include beds to sleep up to five people with lighting and small heaters. Yurts are like hybrid-camping with basic amenities in a campground atmosphere, and a great way to get in nature during the off season. We'll get a campfire and s'mores without the need to bundle up like marshmallows ourselves. We're also not going to be roughing it entirely as we're staying near a small coastal town and will be grabbing pizza on Friday night and planning brunch on Sunday. My only advice is to plan early, at least in Oregon, yurts are so popular that they are booked six months in advance…so plan your next family adventure soon!
Do you participate in clean-ups with your family?
How about yurting?
Sustainable Family Finances
The story of a family creating an abundant and sustainable life.
PS The Spring 2010 beach clean-up totaled over 70,500 pounds!