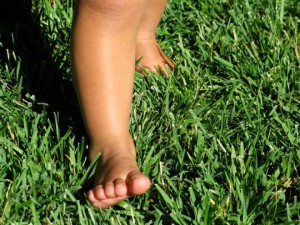 If you've been following my blog goals so far, you're probably wondering "How on Earth are you going to reach all these goals?"
The simple answer: one step at a time.
Although I want to create radical change, I certainly don't expect it all at once. I may be an idealist, but I know my daily reality includes plenty of obligations beyond my own personal wants. Yet, this doesn't mean that I should let my needs languish (nor should you!). Quite to the contrary, we need to be tenacious in our attempts to reach our dreams.
Here are my first baby steps:
Post my new-and-improved family budget template

Review each budget line item one week at a time to consider green impacts

Set small attainable goals per line item

Help Hubby identify debit accounts to switch to our joint account
Start with a simple online carbon calculator

Take some credit and share ways we already save by living green

Find more ways to live abundantly on less
Together we will reach our goals; it just may take a whole lot of baby steps.
What are your personal baby steps?
~*~*~*~*~*~
Sustainable Family Finances
The story of a family creating an abundant and sustainable life.