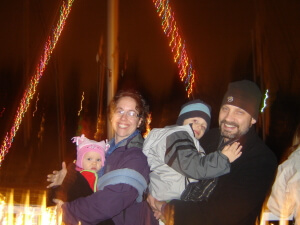 First, I can barely believe that it's already the 10th of December…the season is simply flying by…
This year I've been keeping extra close tabs on my holiday spending, so I've created a little "Spending Tracker" akin to the Santa Tracker to guide me on my way. With each expense, you'll be able to track my spending throughout the holidays via my real time Google Doc. 😉
Plus, I'll check in with posts about the various expenses/savings, hopefully I'll finally get a comment or two to encourage me on my way.
I recently found a post I wrote four years ago to recap our actual Cost of Christmas. Looking back it's interesting to see that it's not that far off from my trimmed down budget for this year. I had been thinking that we spent a lot more on our party, but that year we only spent $230. So, cutting costs by $30 won't feel like much of a challenge. It feels more manageable, since I know we had a fantastic season that year. It's crazy how quickly a grand adds up though, so I'm glad to have my tracker.
How closely do you track your holiday expenses?
Darcy