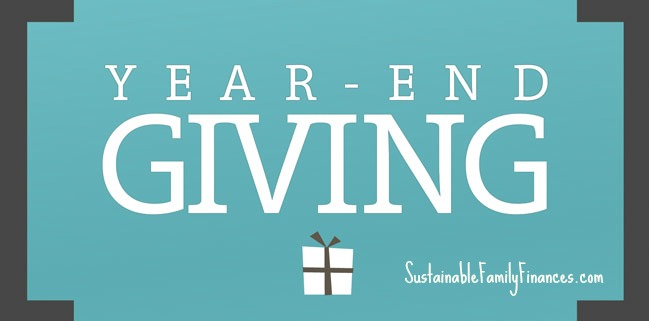 Anybody who has ever worked for a non-profit organization knows that the last quarter of the year makes all the difference in an annual budget. As someone who started giving philanthropically early on, I also take time to reflect at this time of year and consider what causes are most important to me that I may not have had a chance to give to thus far this year.
Everyone's giving looks different, but I find it personally interesting to see how and why people choose where they give (or don't give). Here is an overview at what my giving looks like this year, and why.
Rotary International Foundation – As anyone who is an avid reader knows, I'm a big Rotarian and highly support the great work that Rotary does around the world. I started doing a $25 monthly contribution last year, ironically when I was first on maternity leave and without a consistent income in the future. I did it in part to manifest wealth and giving in my life. At the end of the year I also contributed extra to make use of a matching that was offered by our club. My total giving for the year will be $400, plus additional credit will be matched.
InStove.org – I am also now on the Board of Directors for InStove.org, which makes the cleanest, safest, most fuel efficient stove in the world. As a new board member I have chosen to stretch myself and give an initial donation of $1000, along with my time and volunteer hours to leverage that funding even further. I realize that my grant making capacity makes a monetary contribution minimal in comparison, but I feel that it helps to show faith in the mission and support this incredible work.
Lewis & Clark College – I have also contributed to Lewis & Clark College for a number of years. Since I initially had a difficult time paying my way through LC, I feel particularly indebted to the institution that changed my life in so many ways for the better. I typically give $100 per year to LC. Perhaps one day I will increase this.
Kiva.org – I haven't gone to the same level of commitment as my sister has, with her experiment giving $1000 through loans with Kiva. I figured I should at least top off my current account and be inspired to give a bit more. I just gave to a women's group in Burkina Faso. It is only hard to choose between so many worthy folks wanting a little help.
EduCongo – Another great cause that I support and just gave a to. My dear friend Lou Radja is a fellow Rotarian and does tremendous work with a school that he and his father built in DRCongo. For now I'm giving enough to pay for a year of school fees for a student ($60), but I will be attending a fundraiser for EduCongo in the spring and plan to give more then. I also hope to make it out to visit the school at some point as well.
While I may not feel as flush without a steady paycheck coming in, as I have most often enjoyed, I still feel that it is important to give. It creates a virtuous cycle and keeps the giving going.
Cheers,
Miel