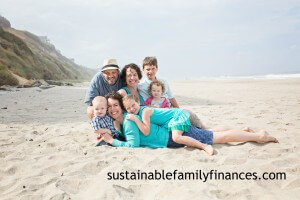 We've been so busy managing our Olivia Beach Camp Cabins (check out our new website!) that we've barely written about running our family business, even though it obviously impacts our family finances.
Sometimes when I tell people that I manage our beach cabins for my "day job," I get this sense that they think it's an easy job. It's mostly a fun and flexible job, but it's also a LOT of work. We are still happy to own our family beach cabins, but the daily reality of owning a vacation rental has been way more hands-on, and sometimes challenging, than we ever anticipated.
So, there's a lot of backstory to share:
Kevin and I had always had the dream of owning a beach house. We set up an account dedicated to saving toward a beach house, even though we never actually saved much.
Miel and I had become inspired by tiny affordable cabins, and drafted a project plan before we ever had a penny to invest in it.
We received a family inheritance nearly four years ago after our father had passed away. We wanted to invest our inheritance in a legacy project that would benefit our whole family for generations to come.
We tried our best to do our due diligence before building the beach cabins (although I wish we had read this article about how expensive vacation rentals can actually be), but our initial projections did not match our actual expenses. Utilities, Jacuzzi maintenance, and HOA dues are far more than we ever budgeted for (more on that very soon…).
We also chose to go with an ambitious 15 year mortgage. The good news is that the cabins will be fully paid by the time we turn fifty, but it makes cash flow situation tight today.
In hindsight, I think Miel and I had two different intentions when investing. I wanted a place to put my money so that I would invest instead of waste it on immediate family "needs." Miel wanted to invest the bare minimum, and then be able to continue investing elsewhere. I realized recently that I had intended to continue invest money into the cabins for the first five years, but Miel had thought we would be breaking even financially by now.
Fast forward three years into business, and we've learned a lot.
A year ago we took over the full-time management of the cabins. In the first month of managing them, Miel brought in more money that the rental management agency had earned us from January-July…and that was with fall bookings. (Although this fall has been comparatively quite for guests and we've decided to bring our winter rates back down).
Owning a family business is a LOT of work. We are workaholics enough that we usually don't mind working overtime, but getting interrupted at dinner by guests can take it's toll. I realized that we need to find a better balance when our son recently didn't want to go to the cabins, because he didn't want to be "put to work" (On the last trip Miel took our kids and worked on the landscaping, laying 33 bags of mulch, plus extra projects…so I can kind of see why he was reluctant). Guests may think every is just fine when they arrive, but all we see are projects that need to get done…some maintenance, but mostly final tweaks to finalize our vision. Last time we were there for three days and managed a fifteen trip to the beach, but even with all work, we are grateful for our visits.
Communication is key, especially when you live with your business partners. Our experience has shown us that you need to have a balance when talking business with family. It's not healthy to constantly talk about business matters, but you don't want to forget important updates or ignore hard discussions. We have a family business meeting at least quarterly, and Miel and I are checking in at least weekly. We are continually looking for ways to improve our business systems, and good communication is essential.
I'll be posting more very soon about our current financial realities, but I felt like I needed to share more of the backstory first.
What are the realities of living your dream?
Darcy (and Miel)