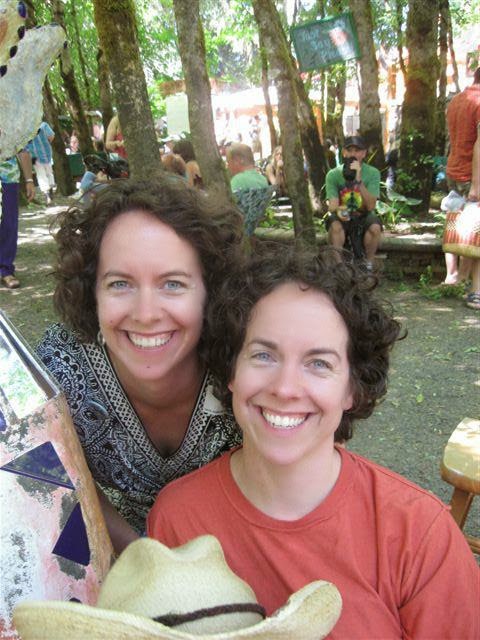 Miel & Darcy (left & right!)
I'm excited to announce a new partnership. In truth , it's really the furthest thing from a new partnership since we've truly been best friends forever, but it still feels like a new relationship and all sorts of new possibilities.
My Twin Sis, Miel, is finally having her first child. She's due in early June with a baby boy (she actually got pregnant as soon as she returned from my daughter's birth). Ever since she got peed on a stick, everything has changed. Instead of talking about her international trips or trapeze lessons, now we're talking about cloth diapers and her registry list.

We've also been colluding about blogging together. Miel has been a very successful blogger, building up DINKS Finance with her husband James. They've also bought several other finance blogs, but she isn't writing there nearly as much as she once did. And, very very soon, they will no longer be true DINKs (Double Income No Kids). So, we've been brainstorming how to make this blog a joint venture, and share both of our stories here.

Aside from being qualified as my Twin Sis, Miel is very savvy with her finances. After the Peace Corps , Miel moved to Washington D.C. to pursue a globe-trekking career working non-profits from Afghanistan to the Congo to the Philippines and back to Africa more times than I can count. S he briefly got into credit card debt as she moved from Oregon to D.C., but she once she landed a job, she managed to pay it off in record time and developed some great money management habits in the process. Miel and her hubby, James, have invested wisely in real estate in the District and recently sold a tiny studio for a pretty penny . They also are in the "Millionaire Club" and diligently track their net worth (I'm still a bit squeamish about this idea for a couple of reasons…a topic about our differences for another post) Yet, suffice it to say, Miel is my personal money adviser and I'm excited to be sharing our diverse perspectives about finances and family matters.

Together, we would love to write about several topics:
Motivating each other – Making more money and saving toward goals
Marriage and money – We both have Hubby's who would love to save every penny, so Money Honey chats will still be a big topic.
Cost of Kids – They are expensive people, but it's also about raising them to have a healthy positive relationship with money. How to motivate and manage responsibility as they grow up (My son is now 8 and anxious to get earning!).
Planning for retirement – Saving goals so we can retire at the same time!!
Owning vacation rentals – We still haven't share the full story about our beach cabins

and all that we are learning about this family investment.

Becoming a solo-preneur – Reflections about working for myself and launching my coaching business.
Organic Living – Continuing to share our efforts to live a greener life.
You can look forward to double the fun of Sustainable Family Finances, with unique perspectives from our dynamic duo. As you'll discover, we may look the same, but everyone handles money differently. This couldn't be more the case in couples and family related finances. We look forward to sharing the journey with you and growing our readership. Feel free to pass on to your friends and spread the word, and follow along the journey.

Darcy (and Miel)

~*~*~*~*~*~
Sustainable Family Finances
Growing abundance while living down-to-Earth