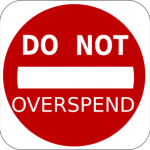 I've been busted. Hubby caught me in the act with an overdraft notice.

The truth is that lately the buying bug has caught me. It started on our spring break vacation, which was an expense in itself. We were buying lattes and pastries, and generally enjoying ourselves along our travels.

There's nothing wrong with that if you have the money. The problem is that we don't at the moment. We only have one income, which thankfully is enough to pay the mortgage, utilities, and general bills. However, it's not enough to pay for the "extras" that we are still frankly accustomed to buying.

I am a spender by nature (as opposed to Hubby and my Twin Sis who are definitely savers). If I have money, I will find a way to spend it. My father was this way. As a tree planter for most of his life, he barely made ends meet. Yet, every time he was paid for a contract, he was suddenly flush and ready to make up for the lost time spent scrimping.

My intentions are good, and my justifications are many. But if I'm honest with myself, I have gone overboard lately. Here's a list from our credit card balance:
Jeanne Verger Necklace – $71 (An early Mother's Day present)

Foster & Dobbs – $4.89 (coffee and croissant)

Laurelwood Public House – $52.65 (unplanned dinner out after b-ball game)

Jr Rock Star Camp – $440 (for two kids – plus we've signed up for two other camps)

Little Big Burger – $7.50 (lunch by myself…it was delicious but we had leftovers)

Bridges Cafe – $19 (Treating Kieran to lunch after a Dr. appointment)

Overstock – $649 (3 rugs for bedrooms)

McMenamins' Yoga + Michael Franti/Brett Dennen Concert- $134 (B-day tix with Twin Sis)

Garden Fever – $153 (Plants for patio and hanging baskets)

Books for coaching – $61 (I could only get two from the library)

Bill Sullivan books – $38.90 (present for Hubby and book for cabins)

Multnomah County – $21.45 (months of overdue fines…dreaded missing books)
So, I obviously need to stop overspending. Today.
I've agreed with Hubby to start tracking my spending, and to stop spending on things we don't really need. Even though I love earning miles on my credit card, I've also decided to spot buying with the card for at least the next two months. Even though we pay it off at the end of every month, obviously this past month we overspent and this next payment will be coming out of savings. That hurts. None of my spending is worth the stable nest egg that we've built to keep us out of debt.
So, here are the things I committing to doing publicly (please hold me accountable!)
Track my daily/weekly/monthly spending using a simple tally system.

Not spend beyond my $50 monthly allowance (save toward summer spending)

Only use my debit card (no card until at least July 1st)

Plant our garden seeds…harvesting kale and spinach now!

Water my business seeds and start to earn an income.
Lastly, I'm committing to blogging regularly again. I've actually been in the process of drafting several blog posts and have been brainstorming ways to really relaunch this blog, but the key is to post regularly. So, that's my first step, writing two posts per week. One will be a finance heart-to-heart and the other something that is inspiring me, and hopefully will inspire you too. 🙂
Have you ever overspent?
What did you to get back on track?

~*~*~*~*~*~
Sustainable Family Finances
The story of a family creating an abundant and sustainable life.