Hello beloved Sustainable Family Finances readers,

I've been busy making babies lately.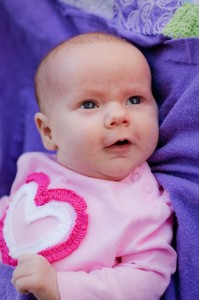 Teagan Brenna Cronin – 5 weeks old
This belated post is to share the exciting news that I have a new baby girl, Teagan. She's already given me the best birth story imaginable and more joy than I even anticipated.
My second baby is a new blog and business optimistically entitled Darcy's Utopia. The blog will reflect on my experiences implementing Simplicity Parenting (while leading new workshops in Portland, beginning in January). I'm very excited about these new endeavors, and would love for you to follow along as my family grows.

Yet, even though I haven't written regularly on this Sustainable Family Finances blog lately, I've decided after a great deal of thought that I'm not ready to abandon it. In fact, given that we are currently down to a single "Sugar Daddy" salary, I've been forced to focus more on my finances lately. Plus, I'm still passionate about all things earthy and green, so I'm certainly not ready to give up writing about my family's efforts to-do-as-little-harm-as-we-can-manage. I only hope that I will be able to take the time to reflect more regularly.

Thanks again for your time and support!

~*~*~*~*~*~
Sustainable Family Finances
The story of a family creating an abundant and sustainable life.