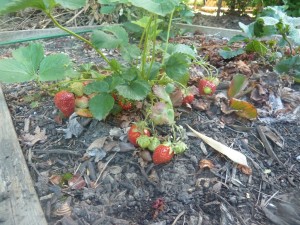 Abundant garden strawberries
As the 4th of July approaches, I'm always reminded to take stake of what matters.

To me, that means berries.

In July 2000, when Hubby and I first moved in together in a converted three-bay garage on Ladd's Circle, our landlords happened to be going out of town for the holiday weekend. So, they offered us the chance to forage blueberries, raspberries, and strawberries from their amazing back yard. We had berries with breakfast each morning and berries with ice cream each evening. The brilliant mix of red, white, and blue felt as patriot as you could get. W hen I lived in Denmark, my host family would harvest a bowl of strawberries every day for weeks…to be served with cream and a dash of sugar. I've always aspired to these two berry-benchmarks.


So, when we hired Alissa and Dreya at Seed Garden Designs to create a landscape design for us, creating an abundant edible landscape was my top priority. Their plan indeed does include all our favorite berries, plus several columnar apple trees.

While we haven't implemented the whole plan yet (we're on a 3-5 schedule), we have already started to reap the benefits of the the plan. Over the spring, we used the Seed Garden Design plan to remove multiple small trees and shrubs. This included a Camellia shaded the raspberry row that was trying it's best to grow the neighbors fence, and it dumped wilted flowers into the strawberry bench. As a result, neither our strawberry or raspberry harvest were much to speak of it. I'm happy to report that we've now been harvesting bowls and bowls of berries.

Unfortunately, I can't say the same for our blueberry harvest. It's still minimal at best, and we're planning to try to revive the soil in the fall and/or replace them with new plants by next season. Life is too short for blueberry plants that don't produce. In the mean time, we're looking forward to a trip to our family friend's organic blueberry farm on the McKenzie, Mohawk River Blueberries. They are plump and delicious, and will fill our freezer for the next year…yum!
On a side note, I was naturally intrigued by the recent Oregonian Home and Gardens article on the top eleven books on edible gardening.

Does your garden focus on edible berries?
~*~*~*~*~*~
Sustainable Family Finances
The story of a family creating an abundant and sustainable life.