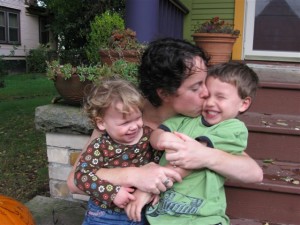 Pumpkin carving 2010, rare photo showing both rings…
Close friends of mine know that earlier this spring, my wedding rings disappeared after an emergency surgery. My platinum wedding ring and 20's era heirloom diamond engagement ring, and another heirloom ring that was made from a spoon by a Great Aunt during the depression were inexplicably lost at the surgery center.


After I got over the grief of loosing these irreplaceable items (which took a good month), I finally took everyone's advice and went through the steps of reporting them as stolen and filing an insurance claim. In the process, Traveler's naturally wanted proof that these jewels existed…this was surprisingly difficult.


At one point many years ago I took up-close photos of my rings for insurance purposes, but somehow after switching laptops several times and loosing some photos in a melted motherboard, I wasn't able to locate any close-up photos. The best photos I had were distant shots of me signing our wedding certificate and another of me in a family photo in Denmark. Note to readers: take a photo of your valuables today!


I also needed to find a receipt, and deep in our old filing cabinet, I discovered that we do in fact still have copies of checks and financial records from 10 years ago! I need to write another post on this, because it was fascinating to see what our financial life was like just ten years ago. I had almost completely forgotten that for two years of working temporary/part-time/hostessing I barely brought in enough to pay my minimal bills…


Back to the rings, I told myself ages ago that I would get an appraisal for the heirloom jewelry, but I never did. I know they were more valuable the covered by our basic insurance. While I'm somewhat satisfied to have gotten our maximum of $1500, the truth is that I still bring myself to purchase any "replacement" rings. Our 10th wedding anniversary is coming up in August, so I'm hoping to feel inspired to get a new ring. Until then, my hands will feel naked and I'll always wonder what really happened to my rings…


Have you ever had stolen/missing jewelry?


~*~*~*~*~*~
Sustainable Family Finances
The story of a family creating an abundant and sustainable life.