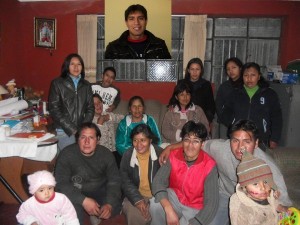 Last year at Father's Day I wrote about my "Green Dads". I also wrote about giving them both $25 in Kiva loans for Father's Day.


This year my father has passed, but his Kiva credits remain. In fact, the El Salvadoran cook I sponsored in his honor has repaid the loan entirely. (The Bolivian mechanic is 71% repaid). Plus, somewhere in the middle of the year when the first loan was repaid, I committed to two more loans, a farmer from Tajikistan has already repaid his loan and a women's co-op from Senegal is currently investing in cattle with the funds from this original loan.


Now I have $32 in credit to re-lend, and I've decided to support Tres Esquinas Group, a 34 year old woman from Peru who decorates events with cloth. Since I happen to be turning 34 on Saturday and love hosting parties, it seems like the perfect match.


It's pretty awesome for an initial gift of just $50…imagine the impact around the world!


In case you aren't familiar micro-lending, here's a great video on Kiva micro-lending. If you want something more in depth and inspiring, here's a video on Investing in Women.


Here are the basics from Kiva's website:



We are a non-profit organization with a mission to connect people through lending to alleviate poverty. Leveraging the internet and a worldwide network of microfinance institutions, Kiva lets individuals lend as little as $25 to help create opportunity around the world. Learn more about
how it works
.
Since Kiva was founded in 2005:
592,634

Kiva lenders

$221

million in loans

98.79%

Repayment rate
We work with:
133

Field Partners

450

volunteers around the world

59

different countries




















Do you give the gift of Kiva loans?
Use this link to lend your first $25 for free!


~*~*~*~*~*~
Sustainable Family Finances
The story of a family creating an abundant and sustainable life.