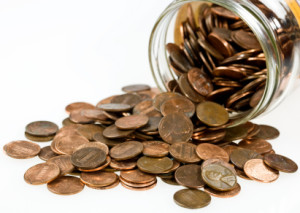 Do you have a head penny counter in your household?


After writing about our early family finance habits, I was curious to see if I could find any videos on the topic. I found an interesting video from CNNmoney.com on Who's managing your family finances?


He discusses a recent study that shows how couples thrive better if the person who is the best at numbers takes the lead on finances – not just the person who takes charge or gets stuck with the finances. It only really makes sense, but relationships, especially with money, aren't always rational.


They give a quick quiz, and I was relieved to pass. Hubby has always thought that I was more numerate that him, although I think we're about equal and somewhere in geometry he became less confident. But I can't claim that we made an intentional decision for me to lead the management because of math skills, and it probably had more to do with us not wanting a traditional arrangement where the person who earns more makes the decisions.


Do you think the most "numerate" spouse handles your finances?


~*~*~*~*~*~
Sustainable Family Finances
The story of a family creating an abundant and sustainable life.