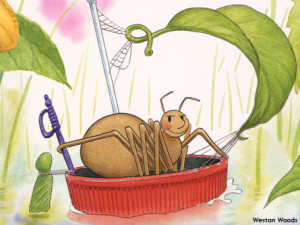 I'm so excited to be going on a field trip with Big Guy's older preschool class to watch the Oregon Children Theater's production of a Diary of a Worm, a Spider, and a Fly .


The Oregonian's theater review raved about the set, and how it's built from 90% recycled materials. Another parent review said that most jokes went over her 3 year old's head, but I think that's partly why they recommend it for the 4+ crowd. The environmental and social moral of the play may be deep, but it's never too early to start teaching green family values.


The class also checked Doreen Cronin's book series from the library, and they are really beautiful and fun books. They were really captivated by them:


Diary of a Worm

Diary of a Spider

Diary of a Fly



One of my first memories is seeing Peter Pan while visiting my Grandmother in L.A., and I hope this will be a special memory for us. The play only runs until February 20th, so make your plans soon.


Also, Big Guy's school managed to get a weekday group discount for $7.50 per ticket!


Have you seen the play or read the books?


~*~*~*~*~*~
Sustainable Family Finances
The story of a family creating an abundant and sustainable life.