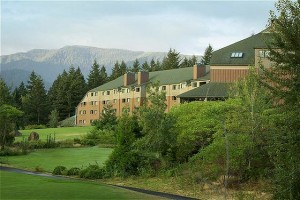 As an early b-day present, and last holiday hurray – Hubby and I headed out to a night sans kids at Skamania Lodge in the Gorge. We thoroughly enjoyed the beautiful view of the Columbia River, and it was a wonderful way to start the new year…I soaked in the spa and sweat in the sauna, while Hubby indulged in new year's day football – so we got the best of both worlds. Plus we went on some beautiful hikes the next day.


I splurged on a "deal" at Skamania Lodge through LivingSocial, which cost us $169 and was valued at $339. We received a $35 bottle of wine, $25 breakfast, and $25 resort credit on top of the accommodations.


In theory, it was a good deal with these add-ons, but you always need to read the fine print. Taxes and resort fee were not included. Neither of us were in the mood for a spendy new year's day dinner or a huge brunch, so our meals weren't too much. For dinner, taxes and the resort fee, we spent an extra $63.17. But I roughly calculated that if you splurged on dinner, brunch and a single spa service, you could easily walk away with an extra tab of $175 plus.


We also paid for gas and lunch on the way out, so our whole trip cost us about $270. In my mind this was more of a luxury get away than a bargain, but it was certainly worth it. Funny enough, we were both a bit boozed out after the holidays and opted to save the bottle, so we still have it to savor.


The real highlight of the weekend was having real conversations over meals…I love our kids, but uninterrupted conversations is not part of our daily reality!


Do you spend weekends without your kids?
How much do you spend?


~*~*~*~*~*~
Sustainable Family Finances
The story of a family creating an abundant and sustainable life.