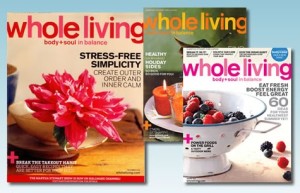 My favorite magazine for several years now has been Body & Soul (now Whole Living). I first came across the publication while I was pumping milk on work breaks. There were tons of old parenting type magazines in the lactation room, but the articles were all so repetitive and thin. I also felt like I needed to focus more on my needs, not constantly trying to school myself on modern mothering trends. The magazine was like a breath of fresh air, and I inhaled every page.


I loved it so much that I kept talking about the articles with my Twin Sis. Then along came the holidays, and my desire to give something to share my love and appreciation (that's not too inexpensive). So, for the past three years I've given Whole Living to my Moms and sisters (and myself!)…5 subscriptions cost only $30.


Even though printed magazines aren't exactly eco-friendly, I've gotten (and hopefully shared) such inspiration from the magazines that it's worth the trade off. Plus, I always pass mine along to friends and hope they have a long happy life.


Do you subscribe to any magazines?
Do you give them as gifts?


~*~*~*~*~*~
Sustainable Family Finances
The story of a family creating an abundant and sustainable life.