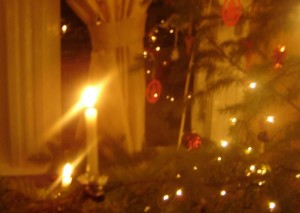 We've been hosting our annual "julefrokost" (Danish-themed holiday party = Christmas lunch) for ten years now, so we've got it down to a science by now. Apartment Therapy has some great articles on how to maximize your party space, and how to throw a great party.


Our new "secret" is that this year is that we timed our monthly cleaning service from EcoMaids for the day before our shindig. We didn't take advantage of it, but they had a deal that if you got a clean before, they'd give a free fill-in service after your house guests leave! Hubby usually does most of the cleaning, but it will be handy to have him available for Daddy-duty and wear the kids out for a good nap 😉


Instead of buying plastic silverware, we opt to use silverware. That's why we have a dishwasher after all. Plus, guests only really need spoons for my traditional potato leek soup. We bought the most durable "disposal" soup bowls, and we've now been washing and reusing for five years.


As far as our budget goes, I always splurge a bit. I figure that this is our big gesture of generosity and friendship, and social capital is worth it. We certainly don't go overboard though, like this: DINKS Reality – Holiday Party Budget . I think the most important thing is to keep thing simple and not try too hard to impress. Partying is supposed to be fun, not stressful.


IKEA has made our menu easier and more authentic; I couldn't get Icelandic shrimp before. By definition, a julefrokost is all about eating, and Danes are known to eat for up to four hours at them…and then drink all night! The beauty with my menu is that there's lots of prep, but very little time-consuming cooking:
Potato leek soup – host mother's creamy recipe

Potato chips, dill dip, veggie tray

Sm

ø

rebr

ø

d (open-faced sandwiches) with meats, cheeses, shrimp, eggs, tomatoes, remoulade, crab pate, laks, crackers and breads

Meatballs/sauce, mini-hotdogs

Æ

bleskiver (special spherical pancakes, dipped in jam and powdered sugar), chocolates, gummis, cookies
Gl

ö

gg, Carlsberg, Snapps
The soup is always a hit, and is a cheap way to fill bellies. The most important thing is that everyone gets that hyggeligt (cozy) feeling inside! That's priceless.
Even though our kids rarely watch movies, we find that a few hours of classic Rankin Bass films is just part of the tradition.
We are also trying to get a babysitter so that parents don't have to be on watch as much. We're also planning a few simple activities to keep them from bouncing off the wall from too much sugar!
How much do you budget for parties?


~*~*~*~*~*~
Sustainable Family Finances
The story of a family creating an abundant and sustainable life.