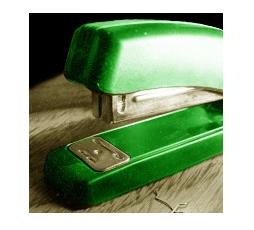 The so-called green collar jobs sector has exploded, but you can work on sustainability issues no matter your title or workplace. I've believed this ever since I decided to become an "professional environmentalist when I grow up."


Here are my favorite places to find green jobs:
My career started in the non-profit sector doing climate lobbying, and my Master's is in Environment and Community. But I don't mind that sustainability isn't in my current job description. I still keep my environmental impact in mind with all of my decisions and look for green opportunities regardless of the task. I also serve on our Green Team, which meets monthly to discuss the challenges and progress of reducing our collective carbon footprint. We tackle everything from reducing to office paper waste to shifting our social workplace norms about what it means to be green.


Really the key is to love what you do and continue to advance your skills in ways that give you meaning and pride in your work.


Do you have a so-called "green job"?


~*~*~*~*~*~
Sustainable Family Finances
The story of a family creating an abundant and sustainable life.