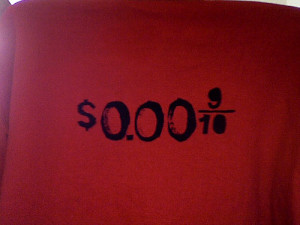 This has been an invigorating week for me, and it isn't just the beautiful fall weather that has me beaming a little brighter. I've biked with the kids 5 of the past 6 days.


As I wrote in late spring, I finally got myself geared up bike with a toddler seat. Well as much as the cheap bike seat worked for Girly, it left me with a Big Guy who still isn't big enough to bike downtown. Plus, I really needed to be able to haul all the stuff that I typically tote on the bus every day.


So, I was ever so grateful when my Father picked me up a Burley trailer from Craig'slist. It handles so nicely that I almost would never guess that I'm trailing almost a hundred pounds of cargo. It hooks on/off really easily and is light weight enough that I can lift it up the stairs by myself. I truly wish that I would have brought down and bought one years ago!


My best story of the week was when I was inching my way up the long steep hill home, and a huge red pick-up truck came along side me…I saw this buff guy's arm come out and I wondered if he was going to yell some obscenity, but to my delight he smiled and yelled out "Way to go! Keep pedaling!" So when I slowed to a crawl today, my sweet Big Guy yelled out "Mommy, you can do it!" Experiencing bicycle culture helps make any extra effort feel worth my while.


While I'm not really saving any money by bike commuting instead of busing, we did save save a little gas money on our neighborhood trips over the weekend. Plus, it's free exercise and a fun way to start and end my office work day.


I don't know how much we'll manage to bike once the weather turns, but I'm setting a goal for myself to get on my bike at least once a week. I used to bike in all weather, and I know the most important thing is to wear the right layers.


Lastly, if you want to pick up your own $0.00 9/10 shirt for yourself, I found a sweet one on Etsy.


Beyond the MPG, what benefits to find from biking?


~*~*~*~*~*~
Sustainable Family Finances
The story of a family creating an abundant and sustainable life.