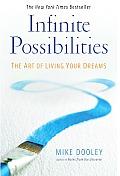 I don't want to come across as being too woo-woo, but one of my favorite daily rituals is to receive Notes from the Universe by email. My very first post nine months ago mentioned being inspired by the universe, but I haven't shared much about my personal reasons for dedicating so much time and energy into this blog .


Writing helps me focus a portion of each day on creating a vision for my family, taking baby steps toward achieving our goals, and reflecting and sharing beyond myself. I don't get many comments yet, so it's hard for me to know how much my thoughts are rippling out into the world. But I have faith that by taking action, we will be rewarded with greater and greater abundance. I can also hope that eventually we will all be successful in achieving sustainable abundance.


I just finished reading Infinite Possibilities: The Art of Living Your Dreams. The insights and advice are both simple and profound, and I am determined to continue to apply them in my life. It's brought to light some limiting thoughts of my own around money, because I realize that I've never seriously fantasized about being rich and always assumed that we would need to balance our budget and struggle to live within our means. It makes me even more aware of the unlimited power we have to define our values and live our lives toward our dreams.


Start today by doing what you can, from where you're at with what you have.


Do you believe in the magic of creating your dreams?
~*~*~*~*~*~
Sustainable Family Finances
The story of a family creating an abundant and sustainable life.