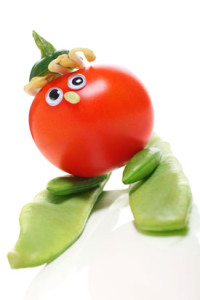 This cute little tomato is much happier than I've been about my garden this summer. I'm disappointed to share that our harvest has been minimal at best. This was our second summer gardening at our "new" home, and this past spring I was prepped to make it the best harvest yet.


I did all the right things, with a cover crop and amending my soil. I thoughtfully drafted a garden design, and planned for getting my hands dirty and an abundant harvest.


Alas, the slugs ate the majority of my starts before they were ever established. June was the second wettest on record and it seemed as if my garden growth was put on pause. By the time it ever caught up to blossom it was too late.


Sadly, I know I'm not alone and I've heard this summer dubbed "the year of the green tomato." Last year I literally had daily bowls of fist sized golden taxi-cab heirlooms, and I've yet to harvest a single full sized tomato. Heather, from the Greenest Dollar, was also dismayed by her lack of harvest and posted several tips for fall gardening.


Our grocery bill has certainly been the highest in years, and I'm hoping to get back in the garden business this fall. I just planted potatoes and hope to put in some cauliflower and broccoli soon.


Did you get a decent summer harvest?
Are you really for a fall/winter garden?


~*~*~*~*~*~
Sustainable Family Finances
The story of a family creating an abundant and sustainable life.