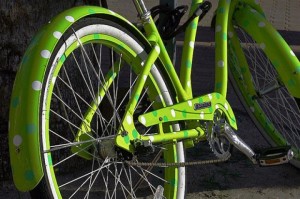 With the last Sunday Parkways of the summer coming up, I'd like to share about bicycle culture. Bicycling is a way of living with a history, traditions, and trends that signal social change is shifting gears toward sustainability.


There's a strong biking community in Portland, the Bicycle Transportation Alliance now has over 5,000 members! When I first moved to Portland in 2000 I bike commuted from Ladd's Addition to North Portland and would see a handful of bikes daily, now 2,745 commuters now ride along N Williams and Sunset magazine even profiled this hip place to bike!


Bicycles had a thriving history before car culture took over. I love this article about packing 6,000 bicyclists on a ferry from Seattle-to-Bainbridge, which also talks about the history of bikes in the NW.


Having lived in Denmark, I know that Portland has only scratched the surface of the depth of bicycling culture. Bicycling is like second nature in Denmark. Like most Danes, I had two bicycles, one at each train station. My headmaster rode to school in a suit, stilettos are not uncommon either. Girls with unbelievably short skirts pedal. One of my best vacations ever was spent biking around the fairytale island of Bornholm. Danes aren't selfish though, and are ready to share their love of cycling worldwide through their Cycling Embassy. If two wheels make you gush, check out Copenhagenize – "for the love of bicycle culture."


Lastly, I'd like to share about a fun new bicycle book called Joyride, it's getting some great press and hope to read it before too long.


Does your family bicycle for fun?
Do you bike-commute to save money and reduce your footprint?


~*~*~*~*~*~
Sustainable Family Finances
The story of a family creating an abundant and sustainable life.