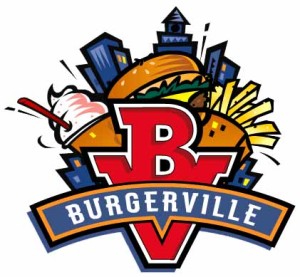 I was the first kid I knew to boycott McDonald's, and I still don't believe in eating in a car. But our family has a soft spot for Burgerville , the local reincarnation of fastfood. I knew I was hooked when I was 8 months pregnant and deeply disappointed that the Walla Walla onion rings were no longer available. Thankfully, the chocolate hazelnut milkshake was there to console me.


Their sustainability marketing worked on us, and I first started going there after they started sourcing meat and produce locally and in season. I love the fact that they compost everything, and the employees are even willing to dumpster drive a bit to make sure things are sorted properly.






Burgerville certainly isn't cheap for fast food, but I feel like the quality is worth it. Plus, it's very family friendly. If I'm going to compromise a home cooked meal, I'd rather eat at Burgerville. Plus, tonight I have an extra excuse, 10% of proceeds go to Project Grow and Hubby has a night meeting!
Here's a fun little video on the making of seasonal pumpkin shakes:



Here's a great quote:


"It's not food if it arrived through the window of your car."
-Michael Pollen


Does your family eat fast food?


~*~*~*~*~*~
Sustainable Family Finances
The story of a family creating an abundant and sustainable life.