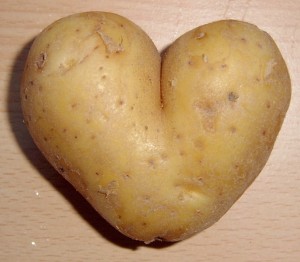 As a busy working Mama, I'm constanting adding items to my grocery list and am rarely as willing to head to the store. Because we take the bus to work, I can't stop to grab something on my way home from work (which is probably a theoretical convenience.) So, I'm left trying to stock up for the week on Saturdays, which usually blows at least two hours of "free time."


I love budget-friendly solutions…drum roll please…sign up for home grocery delivery! Spud is our local home delivery grocer of choice, and I'm actually just getting back into this practice (I actually got a Groupon for $25 to get $50 worth).
Previously they only offered produce and though delicious we had a hard time guaging how much we needed, especially during harvest time. I'm very excited by how much they have added lately; they now offer milk products, eggs, meat, baked goods and lots of pantry staples. Now we can order enough for a weekly delivery without feeling like we're forced to eat nine fruits and veggies a day, not that it would be a bad thing for us…


If you haven't used a home delivery service before you may wonder – How can delivery save your family money? How can you trust the quality? How is this a more sustainable option? Here are my top reasons:
They guarantee fresh produce, and it's always fresher since delivery from field to your house is faster. I was really astounded with my first delivery.
They create a weekly price comparison to prove that you are getting a real deal (in Portland with New Season's and Safeway).
They tell you how many miles your food has traveled, which is sometimes impossible to find in grocery stores.
Buying online is really easy, you can set recurring items (weekly, every other week, etc.) and since I know that my family will always need certain items, this really a no-brainer. You can make lists, like for your pantry, snacks, etc. Once you've got it set up it should take you less than the time it probably takes to get to the store. Plus, you can plan family meals better and you're not as likely to forget key items.
They offset the carbon footprint of delivery, which actually lower with delivery than it would be to get goods from one warehouse to multiple grocers and shoppers driving too.
I find it much easier to stick to a budget and not over-purchase. Lately I've been stopped by a Whole Wallet near our local library for a few items, and I can never get out of the store for less than $50!
If you'd like to try Spud out you can save $25 over your first 4 deliveries. Simply go to www.spud.com and sign-up using promo code CR5-147718. (They have delivery in Portland, Seattle, San Fransisco, Los Angeles and several Canadian cities).
Have you tried a home delivery service?
If you try them out, please leave a comment with your experience!
~*~*~*~*~*~
Sustainable Family Finances
The story of a family creating an abundant and sustainable life.