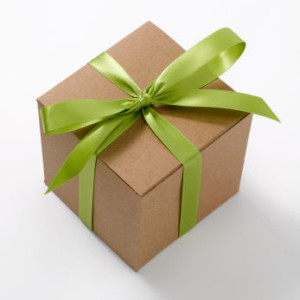 I've got a touchy subject that I've been struggling with for a while now: How do you tell generous family members that enough stuff is enough?
In our house, my Mother is the gift fairy. Virtually every time she visits she comes bearing assorted gifts. They usually aren't extravagant, and typically are things she thinks we "need." My Mother has only the best of intentions, and is always very thoughtful in her gift giving. That's the reason why it's so difficult to put my foot down. I've tried again and again to set limits and we've made some progress, but there always seems to be some extra gift.
Now to my Mother's defense, she understands our green values, and I give her all the credit in the world for teaching me these values. She actually lived off the grid for over a decade, and is currently leading a green school transformation. She doesn't bring cheap plastic trinkets, and has never given something that was inappropriate or toxic. She knows our BigGuy is a bookworm and brings books on a regular basis, which he loves! I've had discussion with Mama friends, and always try to justify it by knowing that there are plenty of Grandparents who are more egregious consumers and truly "spoil." Yet, we don't want our kids to feel entitled to her gifts.


On a financial level, I feel guilty about her spendy money on us and would rather she save her money to retire earlier and spend more time with the kids! I also don't have a clear picture of her retirement situation, and want to make sure that she is taking care of herself first. There's also the larger issue is that it feels like she puts a lot of time, money, and emotional energy into her gift giving that could be better shared with our family in other ways. She is a wizard at sewing and crafts, and I would much rather she spend her extra energy on crafty expressions than shopping. And again to her defense, part of the reason this dynamic has presented itself is because she knows how infrequently I shop for things beyond groceries, and that I would truly rather spend my time in other ways.
So, even with attempts to set limits, we hit another wall after the holiday and birthday season. I'm sure you can picture the preschool meltdown surrounding a coveted book/CD set… Enough was enough, and Hubby promptly drafted our new family policy around gifts.


Official Gift Policy
Values:
We do not want our children to associate materials things with their loved ones.

We value quality time with loved ones over material goods.

Gifts do not equal love or can replace quality time and relationships.

Material goods create tension over time and resources, creates competition for attention, and exacerbates a culture of consumption.
Rules:

1. Our family will not accept any more material gifts.
2. The only exception is one gift for Christmas.
3. A family outing or experience-based gift would be welcomed for Birthdays.
4. Hand sewn gifts, used clothing and used books or supplies for craft projects are still welcomed, but need to based on a larger reward system for good deeds.
5. Any special circumstances must be discussed in advance of purchasing – big or small.


On a recent visit, I discussed our need for a moratorium on stuff in our household with my Mother. The discussion wasn't easy, as I can feel the emotional energy she pours into each purchase. Once she buys things for us, it's no longer mere stuff, but special gifts with meaning. I understand that they are a symbol of her love and affection and a way to connect between visits, but I have to listen to my gut. I know that we can create experiences and memories together that surpass the pleasures of stuff. It's our only viable option for living in true sustainable abundance.


Are we being too strict?
What's your family story with gifts?
Do you set limits? How?
Sustainable Family Finances
The story of a family creating an abundant and sustainable life.