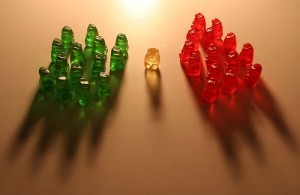 I was intrigued to come across two references about the definition and creation of a so-called middle class. What does being "middle class" really mean?
According to U.S. Today, the income range is actually quite wide, from $51k – $123k annually. The size of average middle class homes has risen 40% in the past thirty years, but that's likely to change again in the decade to come. They also assume that all middle class have two cars, not "just" one. Interestingly, the article mentioned a Pew poll among the middle class where 68% said that free time was their top priority, 12% said that being wealthy was the top priority. I'm all for abundance, but with young children family time reigns high.
I n my own blog bio I describe our family as "middle class," but they doesn't really give the full story. I grew up in rural southern Oregon during the 80's spotted-owl recession, and I always thought of my family as working class. Comparing myself with friends I always felt fortunate though and never thought of myself as "poor." It was first when I applied for students loans that I realized my family was actually on the lower tier of the class strata.
Next I met Hubby, actually my last year of college while he was in grad school. While so-called middle class, his family really hovers toward to top end of this vague social bracket. Thankfully, class level doesn't determine your soul mate and life partner. While we occasionally have lively discussions about our different life perspectives, for the most part its not something that influences our relationship on a daily basis. I can only hope that as we raise our kids, we'll teach them the value of doing what you love, giving back to society and sharing the abundance.
Yet, I'm not naive to think that class doesn't play an intrinsic role in American society. Paul Krugman shares a history lesson about how the middle class society evolved rather quickly due to government policies, and how they have continued to change through political control of the classes. Check out his video:
New York Times columnist, Paul Krugman, talks about Income Inequality and the Middle Class:





How does class play out in your family?
Do consider yourself to be middle class?


~*~*~*~*~*~
Sustainable Family Finances
The story of a family creating an abundant and sustainable life.