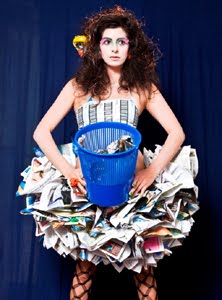 Trends change, and lately they are turning a darker and darker shade of green. In college I met an environmental lecturer who said that we would know that we were reaching a sustainable society when the clothes on our backs no longer destroy local cultures and environments. Apparently the darker the dye the worse the practices, and I happened to be wearing a brand new pair of black pants and eggplant purple top; I felt chagrined.
The runway shifts may have begun with a few local "trashion" shows, like Portland's Junk to Funk, which shows how reused materials can become fashionable. Now the hot handmade online trading site Etsy has it's own Trashion network for crafters with a knack for upcycling. A quick search also came up with a list of the Top 50 Green Fashion and Design Blogs…I'm definitely going to have to take a peek.
This week the Seattle Times had a interesting article on how " Green is the New Black ." Apparently even during the recession earth-friendly apparel is moving fast. I find this interesting, because despite the appeal we can't afford Patagucci or local boutique baby clothing. I bought an overpriced bamboo shirt two years ago, and I still feel a twinge of guilt. I also have a little bit of mommy-guilt around this issue too, because my Mama sewed our clothes until we started asking for store bought in grade school. Yet, as a busy working Mama, I can barely manage to keep my kiddos in clothes that fit them, none-the-less sew them myself!
Does your family purchase eco-friendly attire?
Or would you if it were more affordable?
~*~*~*~*~*~
Sustainable Family Finances
The story of a family creating an abundant and sustainable life.