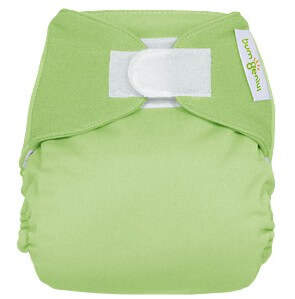 Diaper duty comes with the tasks of parenting. It's a resource incentive chore in all regards costing time and money, while impacting the environment.


Funny enough, I was dissuaded from trying cloth the first round from another green Mama friend who had been overwhelmed by them with her new born (If you're intimidated, plan to wait a few weeks or until they clearly fit). In my experience, once you've got a routine down cloth is pretty simple and worth the extra effort.


I love the fact that I can now go to Costco without throwing away another $50. BumGenius claims that you can save up to $1,200 and 1 ton of landfill waste.


In our family we've tried several different methods, so I'll share a bit about our experience (Round 1 = BigGuy, Round 2 = Girly):


Round 1
G-Diapers – We bought from the first batch of

G-Diapers

to hit the market (which is a hybrid of cloth and a flushable/disposable insert). We had mixed results regarding leaks and blow-outs, but used them most of the time for the first three months. Unfortunately, they weren't kind to our vintage toilet and after a $200 plumbing bill on a Sunday, we decided to take the plumbers advice and not risk replacing our toilet in an effort to be "green."

Seventh Generation Diapers – When the G-Diaper cloth shells were soiled we used 7th G brand diapers. We were really pleased with how they functioned. (I just heard that 7th G has

reduced online prices for bulk purchases

.)

Kirkland Diapers (aka Costco) – After a year of trying to do the "right" thing, economic reality set in for us. I was between jobs and we bought a case of generic diapers at Costco. This led us to buy a membership and sprint toward potty-training.
Round 2


Cloth Diapers – Partly because we felt we had sold out, and partly because our (then) child care center offered a free cloth diaper service, we chose to try out cloth diapers when Girly was born.
Cloth diapers have become advanced technology these days, and I think you'd be surprised by the options and how great they work. The fact of the matter is that blow-outs happen, and I'd say they are pretty even on that ranking.
All-in-one cloth "pocket" diapers – Cloth diapers first got a bad rep because they didn't work well at night and often leaked, but these diapers are super soft and fleecy and work terrific as night diapers. Even if you only used them at night, if your child was potty trained by 2 1/2, you'd still save almost a thousand disposable diapers! They are spendy up front, around $15-20 and I've bought some on Craigslist and at resale shops. Plus, they are designed to fit from size small to large, so they are worth the cost. These are my favorite brands:

BumGenius

,

Fuzzibunz

,

HappyHeinys

.

Wraps –

Thirsties

is the best diaper cover I've found, partly because they have a new "duo" line that makes it so you don't have to buy sm/md/large. They function really well, and once solids were introduced, we can usually use just one wrap per day (yes, changing the cloth regularly!) I like

Bummis

too, they even has swim diapers and training pants, which are super expensive as disposables!

G-Diapers – Even though the flushables did work for us, we did use the cloth diaper portion with cloth liners with good results. My Mom even made fleece inserts that worked great. This was definitely more affordable than the flushable inserts too.
Flushable liners –

Bio-liners

collect all the solids and can be flushed down the toilet. These are the secret weapon for poopy diapers!
Random Cloth Diaper Notes:
I bought enough diapers so I only do 2 loads of diapers per week.
My "diaper pails" consist of airtight plastic tubs. I have a big one next to the laundry and two smaller ones that I transport a day's worth of diapers from the bedroom and childcare. They really are airtight and smells open briefly when you open (remember that disposables stink too!)
At 8 months my Girly started at a childcare without a diaper service. I carry a tote bag with a small plastic tub. It's not very heavy my BigGuy even helps carry it to the bus sometimes. The hardest part is the one mid-week laundry load, but now that I have my routine it's pretty easy to manage. While not the norm, the childcare teachers have been open to learning the new routine and respect my choice.
Buy Larger Clothes – If you opt for cloth, remember that clothes are now sized for disposables, so figure that your child will use a size bigger than expected.
Less Trash, but More water/power – Cloth diapers have helped us with our

one garbage can per month

service. We also have an efficient washer and dryer that helps keep the water/electricity impacts and cost down.
If you want to read more, the best post I read was from a Dad's perspective on CashMoneyLife , it was just written and he's a big fan of cloth. There's also a bit of discussion taking place on the EnviroMom blog. Consumer Reports , and Labor of Love blogs have some decent pro/con lists to consider, although some of the cons against cloth diapers are outmoded, like diaper pins. Thankfully, diaper pins are a thing of the past, I used them as a babysitter and there isn't much harder than trying to not poke a wriggly baby!


Have you used cloth diapers?
Do you have any tips?


~*~*~*~*~*~
Sustainable Family Finances
The story of a family creating an abundant and sustainable life.