Sustainable Family Finances Blog Goals:
1) Record my family income/expenses/savings monthly
2) Meet monthly with hubby to discuss budget
3) Simplify family accounts
4) Track our family's carbon footprint
5) Share ways to live abundantly within our means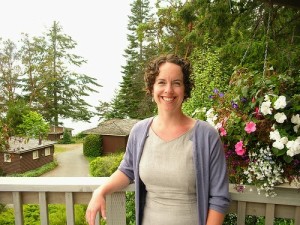 About Me: My name is Darcy. Some call my an idealist, striving for Darcy's Utopia. Others might say that I'm a 30-something middle-class working mom with two young kids: my five year old son (referred to as BigGuy) and my two year old daughter (referred to as Girly). I also have two more guys in my life, my life partner of 10-plus years (referred to as Hubby) and a big black Lab (referred to as Doggy). We live in the best of the Pacific Northwest, aka Oregon, although we hope to connect with people from across the globe through this blog.

About our Family Finances: We are a dual income family, yet we spend more than ever before. I've always been pretty responsible with my money, but "life" can easily distract me from making it a top priority. Due to an almost $2k monthly child care bill, we truly need to balance the budget each month. Otherwise, we are starting in a pretty good place: we are able to pay the mortgage on our "dream home" (a 1904 Victorian), our only other debt is my college and graduate school loans, we have a growing emergency fund, and a modest retirement fund. Financially, our short term goals are to track our family budget better, spend with our values in mind, and increase our emergency fund. Our long term goals are to retire well, save for college, travel as a family, and share the wealth. As a busy working family, our first dilemma is how to streamline our finances and keep our eye on our short and long term financial goals.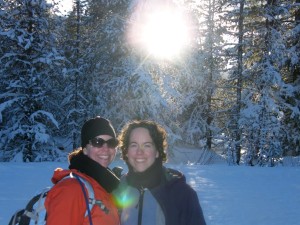 My Partner in Inspiration: As mentioned in my very first post, my twin sister Miel, was my inspiration for starting this blog. She has been very successful with the DINKs Finance blog that she has been co-writing and administering for the past four years (and recently sold). She continues to share her life adventure through Vicarious Nomad. She has agreed to be my partner, and share her blog savvy to make this the successful entrepreneurial venture we hope it will become.
Beyond balancing our family budget, I try to balance my life. My family literally requires a lot of "care and feeding," which means that I have to be strategic to get any "me" time. I work full time in a community-oriented position, which is both challenging and satisfying. I work hard, but also prioritize play time. I love the outdoors, gardening and any sport that gets me in the water. I've always enjoyed writing and believe that this blog will help me get beyond the daily family juggle to see a bigger picture view of how we are interconnected. I hope you will share this journey with me.
Disclaimer #1: I am NOT a financial adviser, and I don't pretend to be one. You may have more financial expertise than me. If you need professional financial advice, please hire someone. I am simply an individual on a journey to learn how to manage my family's finances in a sustainable way. I have a Masters in Environment & Community, and the only finance related class I ever took was environmental economics. I'm a savvy researcher, and will do my best to only share reliable sources. Yet, I will repeat, if you need financial advice, hire a professional!
Disclaimer #2: While we try, my family does not in fact live a truly sustainable life . Some of our efforts do include reducing our home's energy footprint through the Clean Energy Works program (Parts I, II, & III), driving less, biking with kids more, commuting by public transportation, drinking only tap water, limiting ourselves to one can of trash a month, and taking steps to track our carbon footprint. We enjoy gardening (even if with a hapless harvest), have our organic groceries delivered to avoid extra time shopping for the essentials, and we recently started enjoying the indulgence of some extra help with ecomaids.
Disclaimer #3: My family comes first. Work is a close second. There may be times when a sick child or a deadline will take an obvious priority over writing this blog. While I am taking this endeavor seriously, and I don't want to dissappoint; this blog is really just a creative outlet. It's a tool to help me reach my dreams…which includes inspiring you.
You: Thank you for sharing a moment on this journey. I hope my story will help you create your own uniquely abundant and sustainable life. Your comments and engagement help boost my creative resources.
Thanks for the journey!

~*~*~*~*~*~
Sustainable Family Finances This blog is the story of a family creating an abundant and sustainable life.