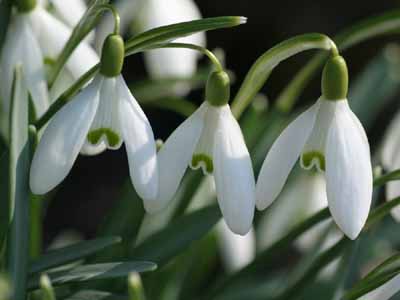 Yes, I realize "Snowdrops" are bulbs, but they are my favorite 🙂
It may be freezing out, but I'm ready to start planting seeds for my family. While I've been thinking about my permaculture design lately, it really goes much deeper. I'm ready to take some leaps of faith this year, but even that requires a great deal of preparation.

I just purchased the Right-Brain Business Plan book and accompanying online course. I'm excited about getting my creative juices flowing and continue baby steps toward creating my dreams.
It's hard to believe that I started writing this blog three years ago now. And while I haven't written nearly as often in the last year, I'm finally feeling ready to write again. For so long I felt unmotivated, but I'm feeling inspired to express myself again. I know that this is how I grow and learn, and hopefully how I manifest dreams into reality.


Part of my challenge has been feeling stifled by the blog's focus on Finances, which I know is rather silly and of my own doing. For the first year and a half, this focus really suited my needs and helped me grow in ways I never completely believed possible. We reached our family goal of traveling to Denmark, and I owe this blog to that dream come true. Yet, I've felt hemmed-in by feeling like I need to have a financial bent on every post to satisfy. And I've honestly felt hypocritical by my loosely monitored personal finances.

Add the fact that we received a personally significant inheritance, and it made me feel even less compelled to write. I couldn't bring myself to write about how my financial dilemmas included whether or not to upgrade to stainless steel appliances on our new beach cabins. While still being the same down-to-earth mama, I felt distanced from readers who maybe wouldn't relate anymore.

Now that virtually all of our net worth has been plunged into building our beach cabins, I feel as though I'm back to square one as far as our finances go, only now I have to worry about paying two sets of bills. Plus, I'm just barely coming up for air after a year of tiresome work on the venture, and I dream of the day where my beach cabin to-do list is merely maintenance level tasks.

In short, I'm ready for bigger and better dreams. Although they are truly more simplified and sustainable. My dreams are about creating my own personal utopia, Darcy's Utopia. And by the next time I write, the blog will go by the new title.

So, while my seeds may feel very tiny in this moment, and my dream even still a little unclear, I am excited about this new phase of my blog/life.


What seeds are you ready to plant?

Darcy

~*~*~*~*~*~
Sustainable Family Finances
The story of a family creating an abundant and sustainable life.